Unity/Sand Ceremony Table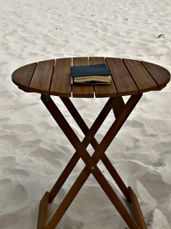 I know how difficult it is to pack for a destination wedding. You shouldn't have to worry about where you will find a table for your Sand Ceremony. You are welcome to borrow this table for free. It is perfect for beach weddings.
It is round, 28 inches high and 24 inches in diameter. You are welcome to bring a table cloth.